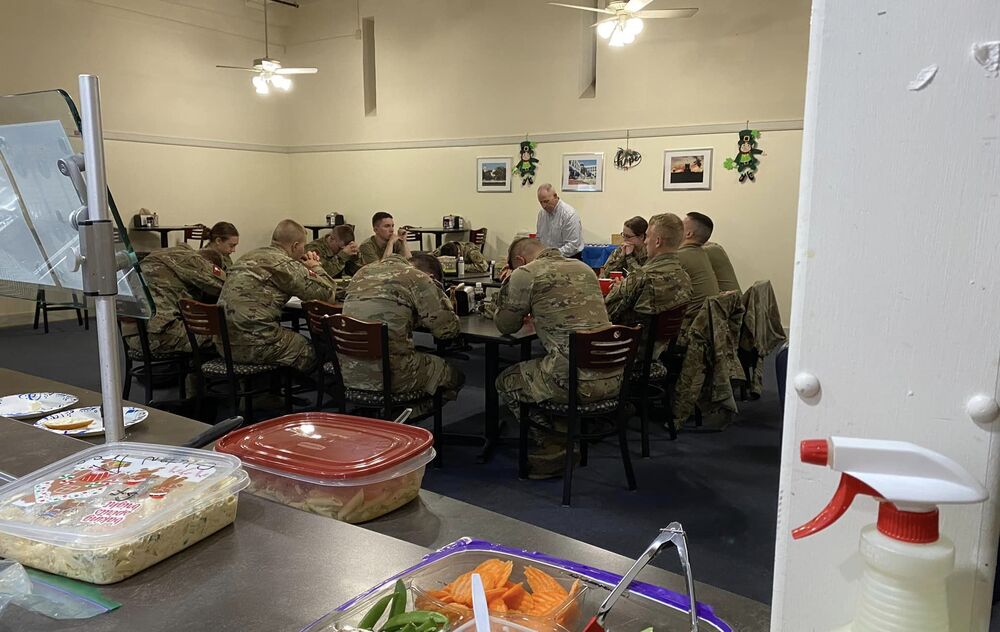 Lutheran Campus Ministry at the Citadel Military College
Join us on Monday evenings as we serve and celebrate at the Citadel.
Thank you, cadets, for sharing your time with us and allowing us to serve dinner and get a peek into what God is up to in your midst!
Holy Spirit Blessing Box
A Blessing Box is a "Little Free Pantry", which provides non perishable food (like cereal, canned soup/pasta, granola bars) as well as hygiene items (including shampoo, soap, toothbrushes/toothpaste and toilet paper) to local residents when they need them.
These are the items most commonly donated and used to stock the Blessing Box:
Canned food with ring-pulls
Socks
Mittens
Hand warmers
Crackers
Toilet paper
Non-perishable foods
Bottled water
Small snacks
Toiletries, including hand soap, toothbrushes and toothpaste Baby wipes

You may bring items for our Blessing Box and place them in the red wagon located in the connector.
Holy Spirit Hymn Festival
Each year our Music Ministries and musicians combine with many local area churches as well as Charleston Symphony brass musicians to present an ecumenical hymn festival full of the most glorious music and scripture. We come together for a one-night concert that is open to the public.
We invite you to join us!
Service projects we participate in...
Blessing of the Backpacks
Annual Winter Coat Drive for Neighbors Together, SC
Charleston Animal Society Food Drive